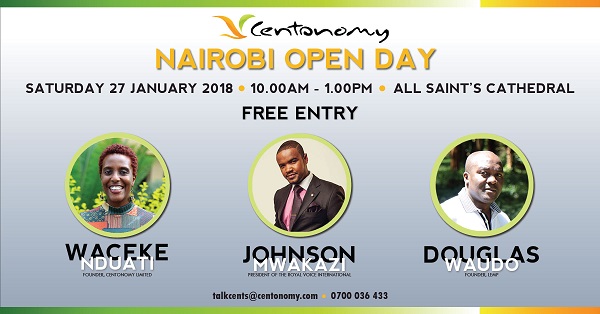 The Centonomy Open Day is a day for you to come, interact and experience Centonomy, the Wealth Creation Program. On this day you will get a chance to experience the Centonomy 101 program which aims at answering every question that you have ever asked or wondered about your personal finances. Questions about having money, saving it, growing/investing it, borrowing it, planning for it, protecting it and all things money.
This time the theme is 'Money Rules' which will address different aspects of money. Ie. Money rules that you should follow or bend, money rules in matters related to investments (property investments, shares, treasury bills, and bonds) etc.
The speakers are Johnson Mwakazi, President of the Royal Voice International, Douglas Waudo an Alumni of Centonomy & Founder LEMP and Waceke Nduati, Founder Centonomy.
To confirm your attendance kindly fill in your details via this link Centonomy Open Day Registration Link 
See you there!!!